Please join us this Saturday for CFMG's Beach WOD/Potluck!!!!
No Classes this Saturday.
WOD:
"Wittman"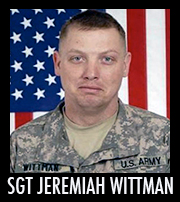 U.S. Army Sergeant Jeremiah Wittman, 26, of Darby, MT, assigned to the 1st Battalion, 12th Infantry Regiment, 4th Brigade Combat Team, 4th Infantry Division, based out of Fort Carson, CO, was killed on February 13, 2010, when insurgents attacked his unit with a roadside bomb in Zhari province, Afghanistan.
He is survived by his daughters Miah and Ariauna, wife Karyn, siblings Robert H., Charity, Jenell, and Natasha, father Robert, and mother Cynthia Church.
15 KB Swings (53#/35#)
15 Power Cleans (95#/65#)
15 Box Jumps (24"/20")
-7 Rounds for time-
(22 Min cap)
The 22 min cap will be strictly enforced today because we will have to run heats for some of our classes. Also, be prepared to share your plyo. box. We have more boxes on the way, they just aren't ready yet :). Thanks for your cooperation, and GOOD LUCK!
Dim lights Embed Embed this video on your site
Dim lights Embed Embed this video on your site
Be sure to checkout the newest CrossFit Shoe, the Nano 2.0
The 7 Most Common Reactions to Your High-Fat Diet (and How to Respond)
Too Easy Chicken Adobo and Roasted Greens w/ Beets and Garlic